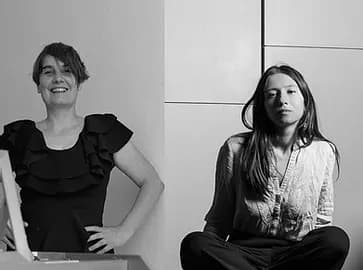 Spirituality and Paradise
Music for Soprano and piano
Margarete Huber
soprano and electronics
Fidan Aghayeva-Edler
piano and electronics
***

Karol Szymanowsky: Piesni muezina szalonego

(Songs of an Infatuated Muezzin)
1934 (Selected Songs) Soprano + Piano

Hildegard von Bingen Ave generosis

(1098-1197)
Soprano solo

Margarete Huber «die vögel stehen in der luft und schreien»

(2010)
piano and tape

George Crumb «Apparition»

(1979)
(Selected Songs) Soprano + Piano

New Commissioned work


soprano + piano + electronics
***

Samuel Barber Hermit Songs

(1953)
(Selected Songs) Soprano + Piano

Meredith Monk Songs from the hill

(1976)
Soprano solo

Martyna Kosecka «Cogita!»

(2012/2015)
piano solo

Free Improvisation

(Hommage to Pauline Oliveros «Deep listening»)
Soprano + Piano + electronics
The programm «Spirituality and Paradise» shows spiritual connected works by contemporary composers and works from earlier times.
Szymanowskys Piesni muezina and Barbers Hermit Songs are named to be something like «classicals» of spiritual works.
Solo-Piano work «die vögel stehen in der luft und schreien» by Margarete Huber is reflecting newly spiritualistic aspects as existence and death.
Apparition is a state where you mind is between dream and reality. Crumb´s famous cycle brings up fabulously beautiful images and visions from far and beyond.
As well as Pauline Oliveros, who established the «Deep listening», a new focus about intensity in improvisation, a new understanding of time and listening.
Not at least the early spiritual works from female composers like Hildegard von Bingen as well as from the pionier of experimental voice Meredith Monk should have a place in this program.
Martyna Koseckas «Cogita!» connects intellectual, emotional and spiritual human activities and with its proportional notation bring us closer to the apogee of the concert – improvisation.

Margarete Huber und Fidan Aghayeva-Edler
are a Berlin duo of musicians who work together in a variety of ways: Since 2018 they have been giving concerts with the «FLEURS DE FRANCE» program with works by Lili Boulanger, Claude Debussy, Maurice Ravel and Germaine Tailleferre. In 2018 Margarete Huber also composed «GREEN» for piano and tape for Fidan Aghayeva-Edler, which was premiered at the «Orléans Concours International». In addition, the two of them designed the dance music theater «SCHUTZ RAUM SCHUTZ LOS» with «ensemble xenon» and the dancer Yuko Kaseki. In 2019 the duo presented the program YESTERDAY-HEUTE-MORGEN: FORBIDDEN MUSIC & NEW SOUNDS. During pandemics 2020 Margarete Huber composed a cycle for prepared piano «Kurze Blitze, Donner, Sonne, Wind und Regen», which Fidan Aghayeva-Edler premiered in a livestreamed concert from BKA concert row «Unerhörte Musik» in Berlin. Their actual project includes improvisation as an alternative, more spontaneous, but also more profound way of transmission of musical ideas.